This French-inspired wedding at Chateau Noland was as dreamy as it was magical! The European Countryside feel mixed with the elegance of a cozy cottage made this wedding one for the books!
Before I deep dive into their special day, I wanted to take a minute to share their engagement photos! Be sure to check out their Shell Beach Engagement Session!
The Venue
As the title suggests, Leslie and Casey were married at Chateau Noland, in San Luis Obispo, California! This venue brings your fairytale dreams to life! I mean, who doesn't want to get married at a castle?!
The Chateau has recently been updated to include a beautiful, new bridal suite. This allows you the option to stay on the property with all of your guests! In my opinion, this is the best kind of venue! Not only are the accommodations incredible, but the views are breathtaking! They overlook the foliage and landscape of the San Luis Obispo hills!
Wedding Day Details
Although I expected a warm, spring day, it ended up a little chilly! It started out sunny, but as the fog rolled in from Avila Beach, guests began to get pretty chilly. We fought the weather pretty hard, but I think we won! I think this because the cooler temperatures made for the perfect conditions for everyone to break a leg on the dance floor!
Throughout the entire day, Leslie's smile was contagious. You could tell just by looking at her that she was exactly where she wanted to be. She danced all day long! She made a reel in the morning with her bridesmaids, danced throughout pictures, and then continued her moves on the dance floor at her reception.
Not only was the bride's mood the best that I have ever witness, but her shoes were to die for! Leslie's french blue heels reminded me of Marie Antoinette, and they matched the blue decor and wedding party attire perfectly.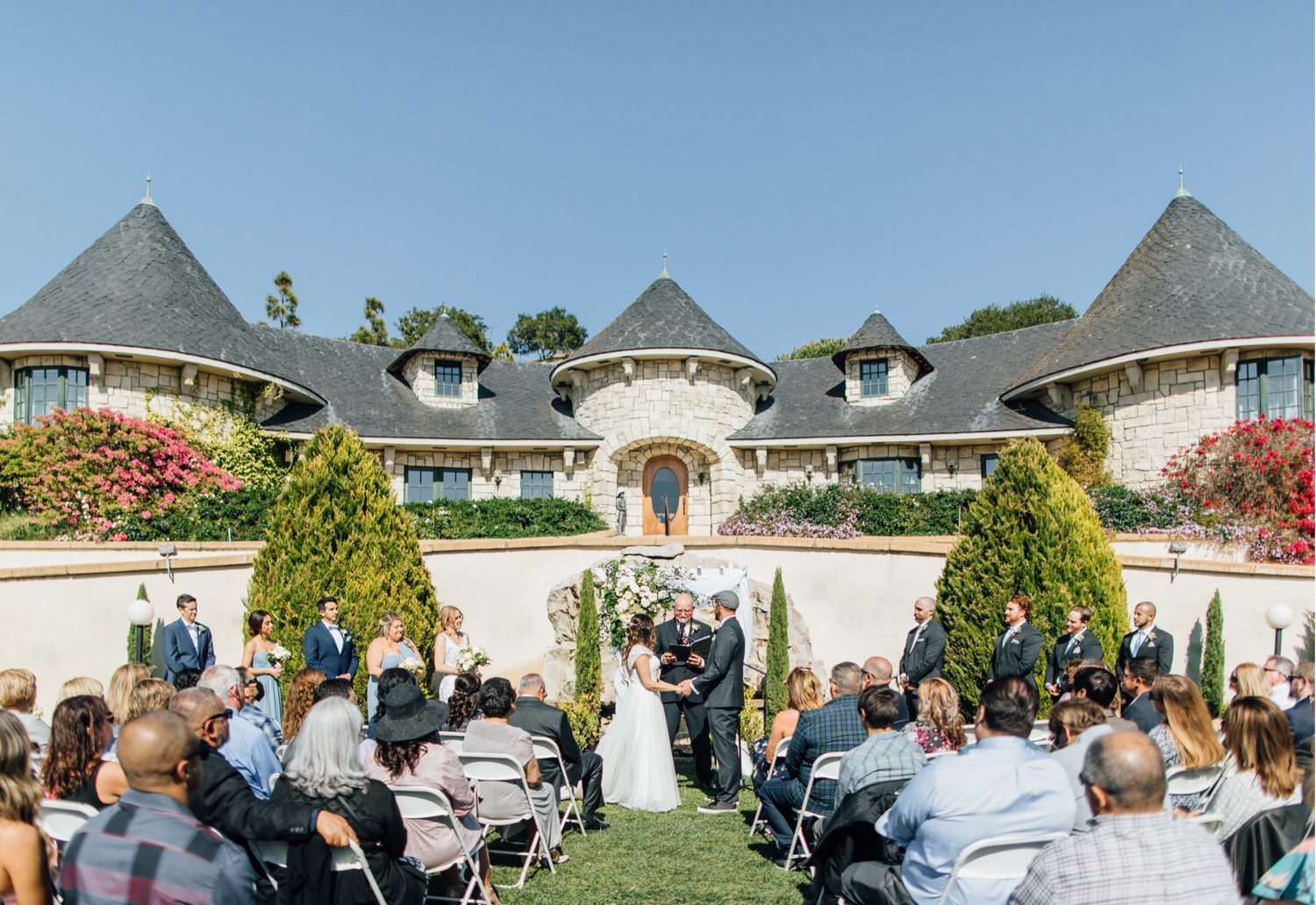 Everything about this amazing French Inspired Wedding has constantly been running through my mind! I am so grateful I got to spend time with such a fantastic couple. We created magic, and I will never forget it!
Vendor Shoutouts
Photo: Jessica Sofranko | Venue: Chateau Noland | Florals: Teeny Tiny Flower Farm | Hair & Makeup: Bellizzimo Beauty and Fathom Beauty by Renee | Sunless Tan: Salty But Sweet Sunless Tan |  DJ & Video: Modern Symphany DJ | Rentals: SLO Party Rentals | Dress: Epiphany Boutique | Cake: Daisy Delights | Stationery: Zola Shoes: Manolo Blahnik & Vans | Jewelry: Bella Jule Fine Jewelry | Groom's attire: Men's Wearhouse | Custom cufflinks: CuffCuff